Chocolate Orchids and hybrids


Onc. Sharry Baby
Onc. Sharry Baby is the Orchid most commonly referred to as the Chocolate Orchid. It has that strong chocolate scent. It is commonly found in two color varieties.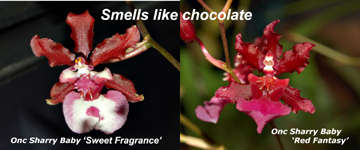 Sweet fragrance is the strongest scent and larger flower. Red Fantasy is a smaller variety growing to only about 18 inches in height, whereas, Sweet Fragrance can be 6-10 inches taller. Red fantasy is slightly less fragrant than Sweet Fragrance but makes up for it with more flower spikes and more flowers.
Care of this orchid is easy. General good Orchid care. Medium to low light - let it's roots get very pot bound - and
do not be concerned about the black spots
that sprinkle the leaves like pepper. It is normal and a generic property of the orchid. It is harmless. Good air circulation is very beneficial for all Oncidium and Oncidium Intergenerics.
Onc. Heaven Scent (Onc. Sharry Baby x Mtdm. Ruffles)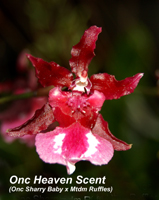 Onc. Heaven Scent is a cross of Onc. Sharry baby and Mtdm. Ruffles. Mtdm. Ruffles has a light vanilla scent and the hybrid has the same chocolate smell. The flowers look more like Red Fantasy but are larger. The plant has one very nice characteristic added from Mtdm. Ruffles in that the leaves have less spotting than Sharry baby.
Care is the same for all the hybrids. All of these are capable of blooming twice a year with Heaven Scent almost always flowering twice. Flowering multiple times a year is dependant on the size and age of the Oncidium.
Oncidium Pacific Paladium and Oncidium Sweet Sixteen are two other new hybrids in this group.