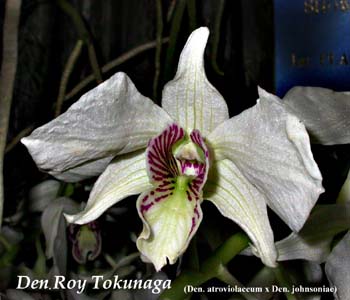 SPECIALTY ORCHIDS

The butterfly orchids of the Psychopsis family are truly outstanding. They will flower continuously on the same stem for 5-10 years with each flowering making the stem a little longer. We have had stems up to five feet long. While the stems look delicate they will withstand 40 mph winds without breaking.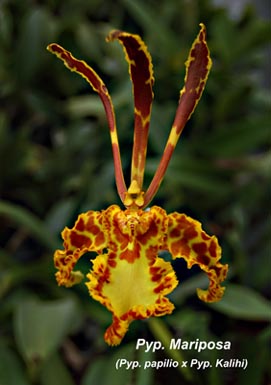 We like the hybrid Psy. Mariposa the best. All Psychopsis look basically the same, but Mariposa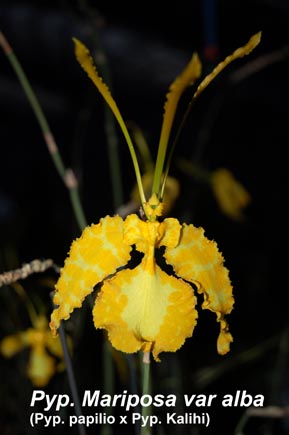 is about 20% larger with a more rounded lip. The alba form appears more often than the parent Psychopsis papilio alba. Do not ask why a yellow flower is called white (alba) but that has been the varietal name. The alba form has been much more expensive as it was less common selling for $60 a single stem. The Mariposa we offer start at $35 for a single stem and double triple or even quadruple stems are coming to the market.

Psychopsis are not known for producing keiki on the flower stem but we are starting to see a lot. We believe it is a result of the Companion and Essentials we have been spraying. We have on stem with 2 flowers and 9 keiki.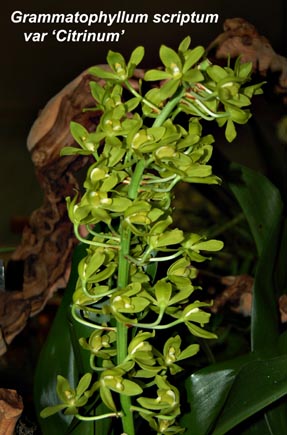 Gram. scriptum var. citreon are July to September bloomers. The flowers last for us 6-10 weeks and if kept out of the worst of the summer heat can stay attractive longer. We have full size flowering plants. These are a late summer bloomer for us and the first flower spikes are beginning to open flowers. Quantityies of flowering plants are still very limited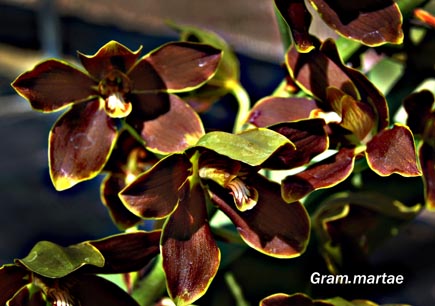 Gram. martae, Gram. scriptum and a cross of scriptum x martae flower in the spring to early summer.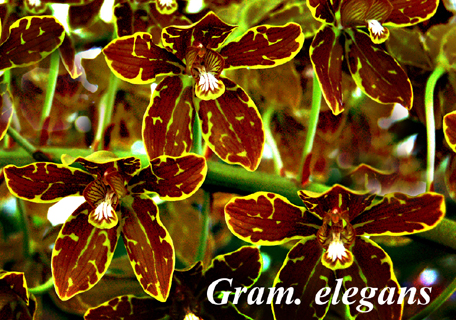 Gram. elegans is outstanding in bloom. The flower spikes can be seven feet long with well over a hundred flowers per stem.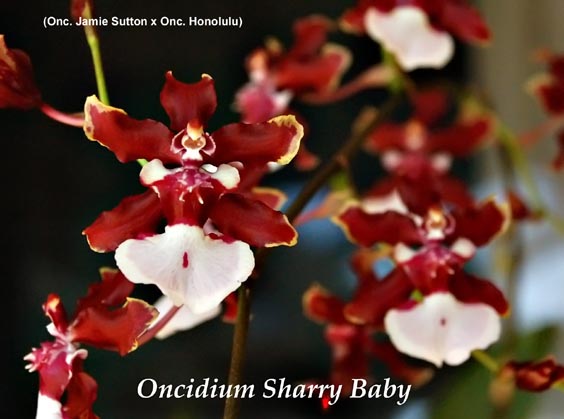 Try the chocolate orchid, Onc. Sharry Baby.  It smells exactly like chocolate. 

We have been shipping large multiple spike plants for the last few months and now the same plants are blooming again.  They only have one spike so far but usually produce more.  These plants are all blooming multiple times a year. 

We have a new crop flowering. We have added divisions at a low price for those with a little patience. But only a little patience is needed as most divisions flower the first year.

We are dedicated to producing high quality orchids to beautify our lives.
Everyone starts as a beginner. We are ready to assist beginners in selection and care of your Orchids.

We can assist established collectors with new directions to expand their collections.
Check out the Psychopsis, the butterfly orchids, for an easy to grow but a decidedly different type of orchid. The species orchid section is growing and contains many unique plants.

We sell Orchids not shipping charges with low shipping and handling fees.

We always offer a maximum shipping charge of $15.00. Extra large blooming Vanda may require special shipping and we will notify you prior to any charges on your account.



Check out our FREE download Christmas & Greeting Cards.




Download Our Free Orchid Calendar. Our gift to you.



There are now over 3200 photos in the Orchid gallery and more being added each week.
Only some can be available for purchase at any given time. Contact us by email for personal assistance about alternate recommendations whenever something you really like is not available.